We've tried to ensure the information displayed here is as accurate as possible. Should there be any inaccuracies, we would be grateful if you could let us know at info@ipohworld.org . All images and content are copyright.
(Please click on the thumbnail for a bigger image.)
Dr Ho Kai Cheong
Thumbnail :
---

Default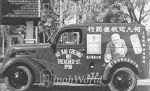 Subject :Dr Ho Kai Cheong
Source :
Dr Ho Tak Ming, Ipoh
Remark : Dr Ho Kai Cheong, born in 1910 in the small village of Kati near Kuala Kangsar, lived a long and successful life as the manufacturer and distributor of his own medicinal, herbal tea called Ho Yan Hor.

Graduating in the study of Chinese Medicine from the Wah Lam National Physicians School in Guangzhou, China in 1941 Ho Kai Cheong returned to Malaya at the start of the war. Working on the belief that an excess of yang leads to over heating and needs to be counterbalanced by an input of yin he formulated a cooling tea from 26 herbs. This Ho Yan Hor Herbal Tea was also found to be effective in treating fever, for example in the early 1950's Asian Flu epidemic.

Initially Ho Kai Cheong rented a room in a shophouse at No 1 Treacher Street to sell his tea at 10-cents a glass but soon expanded his business by selling sachets of his dried tea. Whilst his wife sold from the stall he went off on his bicycle to market the tea around Ipoh and as far as Penang, Kuala Lumpur and Cameron Highlands. He progressed to using a van, fitted with loudspeakers, to promote and sell his tea, rented the whole shop and employed 25 workers.

David Ho, Ho Kai Choeng's son, as a qualified pharmacist, modernized the business, although he maintained the original recipe. He went on to set up Hovid Berhad focusing upon research and development. This firm now manufactures and exports worldwide their mainstream pharmaceuticals as well as medicinal preparations and health supplements.

Ho Kai Cheong is pictured here at age 80, having just graduated with a Doctorate in Divinity at Nam Wah College, Hong Kong.

The second photograph is of his first loudspeaker van.

Ho Kai Cheong died in January 2007 at the age of 97 having generously given considerable amounts to charity and having passed on his passion for finding effective medicines to his son.