We've tried to ensure the information displayed here is as accurate as possible. Should there be any inaccuracies, we would be grateful if you could let us know at info@ipohworld.org . All images and content are copyright.
(Please click on the thumbnail for a bigger image.)
Rex Cinema In Kampar
Thumbnail :
---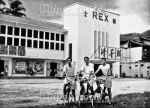 Subject :Rex Cinema In Kampar
Source :
Ian Anderson, Ipoh / Kinta Properties Group
Remark :
REX cinema was one of the four famous cinemas in Kampar in the 60's, Princess, Majestic and Sun. The Rex was a Shaw Brothers' Cinema (screening mainly Shaw Movies) and this is depicted on the top of the building.The cheapest ticket for a movie at that time was about 40 cents.

Having closed down, thanks to the introduction of TV and Cineplexes, it became a snooker centre until a couple of years ago (say 2007). It's since been torn down but the new structure has yet to be built (2011).
In the past, the Rex cinema screened movies produced by Shaw Brothers exclusively. During that time, silver screen divas such as Lin Dai, Ivy Ling Po, Li Ching and Cheng Pei Pei reigned supreme.
Fans packed the halls each time movies featuring their favourite stars were shown. Most movies were either in English or Mandarin with English subtitles. Interestingly, Rex never screened Cantonese movies despite it being the dominant dialect in Perak.
The following details are from our Blog Readers:
Ken Chan

Can only remember the names of two other cinemas in Kampar. Majestic was part of the Cathay circuit, while Princess was operated by Eng Wah. In those days, there were five principal cinema organizations that were dominant in the movie business in Malaysia. Apart from Shaw and Cathay, the other major players were Kong Ngee (the company that ran Majestic Ipoh before it was taken over by Cathay), Eng Wah (Star Cinema, Ipoh) and Chong Gay (Hoover Cinema, Ipoh). Cannot recall the name of the 4th cinema in Kampar though.

Chemor Boy told us that the Sun Cinema (in Kampar) was along Jalan Idris;

S. Sundralingam adds that the Sun Cinema was behind Peace Hotel (which is now the site of the Store Supermarket.

Suffererofbirdhousenoiseintaiping

Sun Cinema (Chinese: 新中山戏院 "Xin Zhong Shan Xi Yuan") used to occupy the now vacant lot between Wesley Methodist Church and the defunct Taiping Supermarket. The Store (formerly Berkat Supermarket) that stands behind Peace Hotel used to be Carlton Theatre/Cinema.
To Read about the Princess Theatre, Kampar, click here.

To read a short introduction to the Shaw Brothers and their Jubilee Park, Ipoh, click here.