We've tried to ensure the information displayed here is as accurate as possible. Should there be any inaccuracies, we would be grateful if you could let us know at info@ipohworld.org . All images and content are copyright.
(Please click on the thumbnail for a bigger image.)
Shaw Brothers Inter-Office Memorandum - Pursuit Of A Killer - Part 1
Thumbnail :
---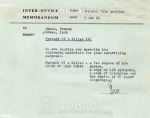 Default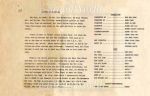 Subject :Shaw Brothers Inter-Office Memorandum - Pursuit Of A Killer - Part 1
Location :
Ipoh/Penang/Singapore
Source :
Ian Anderson, Ipoh / Kinta Properties Group
Remark :
This memorandum from the Chinese Film Section, Shaw Brothers, Singapore to Ipoh and Penang forwarded all the details of a forthcoming movie, "Pursuit of a Killer".

In this part of the series pf documents and pictures are the scans of the original memorandum, a newspaper cutting advetising the film (centre) and a synopsis of the film with cast and production details in English (right).

Produced in Hong Kong and with Hong Kong's fate of being handed over to Mainland China rapidly approaching, Hong Kong films began having Mainland Chinese characters getting caught up in Hong Kong life. This was the case with this script where the charm of "Pursuit Of A Killer" lies in the long awaited reunion of two Five Venoms; Lo Meng, who plays a mainland Chinese criminal escaping to Hong Kong in search of a better life, and Sun Chien, the cop who helps him adjust to Hong Kong life while tracking down his mysterious killer.

To go to Part 2, click here.