We've tried to ensure the information displayed here is as accurate as possible. Should there be any inaccuracies, we would be grateful if you could let us know at info@ipohworld.org . All images and content are copyright.
(Please click on the thumbnail for a bigger image.)
Whiteaway, Laidlaw & Co Ltd, Ipoh
Thumbnail :
---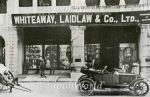 Subject :Whiteaway, Laidlaw & Co Ltd, Ipoh
Published By :
Published by Perak Academy. Author: Khoo Salma Nasution & Abdur-Razzaq Lubis
Location :
Station Road, Ipoh
Source :
Kinta Valley Book / ipohWorld Library
Remark :
The photograph shows the ground floor shopfront of Whiteaway Laidlaw & Co's, new three-storey department store, known locally as 'Whiteaways'. It put up this building in Station Road around 1916 on the site of what previously had been a wood and atap, single storey building known as the Station Hotel (although it had no link with the FMS Railways.). This was Ipoh's leading department store and the first commercial establishment to have electric fans. An elegant and period car, probably an Austin 7 Chummy, is standing outside while its owner is buying the latest goods from overseas. On the left is a rickshaw waiting for a Tuan or a Mem (a white gentleman or lady) to complete their shopping so that he may get a fare.

Whiteaways, was an international, premier department store in the early 20th century with branches in about 20 cities, across India, FMS and the Straits Settlements. In Malaya this included stores in Singapore, Penang, Kuala Lumpur, Ipoh, Taiping, Seremban, Klang, Malacca and Telok Anson. Later they expanded even further to include Canada, Ceylon, Argentina and Kenya. The company was founded in Calcutta in 1882 by Robert Laidlaw (born 10 January 1856) and this was the start of the great business house of Whiteaway, Laidlaw & Co. which soon spread its wings on the strength of providing selected imported household goods to cater for the different expatriate communities and the local elite.

As the leading local emporium chain in Ipoh, Whiteaway Laidlaw brought in those products that appealed to the Europeans, the Towkays and the Baba Nonya residents including a fashionable range of clothing, furnishings, sports accessories and the like as well as a wide variety of specialist goods suitable for the tropics.