We've tried to ensure the information displayed here is as accurate as possible. Should there be any inaccuracies, we would be grateful if you could let us know at info@ipohworld.org . All images and content are copyright.
(Please click on the thumbnail for a bigger image.)
The Yeoh Family Of Ipoh - The Famous Drinking Family
Thumbnail :
---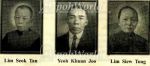 Subject :The Yeoh Family Of Ipoh - The Famous Drinking Family
Source :
Dr Ho Tak Ming, Ipoh
Remark :
There are three prominent Ipoh families, the Yeohs, the Lims and the Chews which are connected by marriage, so much so that they are often referred together as the "Yeoh-Lim-Chew" families. "Yeoh-Lim-Chew", as every Hokkien knows, sounds like "The Yeohs (love to) drink wine" - and that perhaps sums up the characteristics of the most famous family of Ipoh : brilliant, sociable and successful.

The patriarch, Yeoh Khuan Joo, was born in 1872 in the town of Tong An, Quan Zhou district of Fujian province, China. He started schooling at the age of seven, but had to stop five years later when his father passed away. Although he resumed schooling at the age of sixteen, it was only for a year as the following year, he had to earn his livelihood by going into trade in his native village, exchanging yarn for fabric. Later he teamed up with his elder brother to deal in all types of textiles in a neighbouring town. As the market was limited, he decided to set off for Malaya in 1899 at the age of 27 to seek better opportunities.

Upon arrival in Ipoh, he worked as a clerk in a trading firm. Five months later he was given an additional responsibility, doubling as a manager as well. A year later his employer transferred him to Kampar to take complete charge of the business there. After one year in Kampar, he sent in his resignation. He came back to Ipoh to start his own business in a rented shop and with a capital of a few hundred dollars, dealing with imported household goods and commodities. Being thrifty and industrious, his business grew from strength to strength.

At the age of 31, he married Lim Siew Tong, the sister of Lim Seok Tan, who had arrived in Malaya in 1895 from the village of Che Ling, Guanqiao town, Fujian province. Seok Tan had set up a provision shop in Tapah, which was providential, as his shop supplied the provisions not only for Tapah but also Cameron Highlands, which was then developing. The Lim clan of Tapah prospered. The Ipoh clan is represented by the grandsons of Lim Seok Tan, namely Dato KK Lim, the leading industrialist and developer, and Dato Seri Dr. Lim Keng Yaik, the Energy, Water and Communications Minister.

Yeoh Khuan Joo had four sons and daughters. Of the sons, the eldest, Yeoh Ghim Khoon, was a businessman and founded the Ipoh Omnibus Company while the second, Yeoh Ghim Cheow, was a partner of the stock broking firm, Botly and Company. The third son, Prof. Yeoh Ghim Seng, was the most illustrious, becoming Professor of Surgery at the university of Singapore, Speaker of the Singapore Parliament and Acting President of Singapore. The youngest, Dr. Yeoh Ghim Leong, became a radiologist in Hawaii.

Of the daughters, the youngest, Yeoh Suan Bee, married Chew Choon Kok, a son of the wealthy tin miner, Chew Boon Juan (Vicinity Perak, Dec 2005). A daughter of Boon Juan, Chew Gaik Tiew, married Yeoh Ghim Cheow.

Of the third generation Yeohs, the sons of Yeoh Ghim Khoon take the limelight. He had six sons, of whom the eldest is Dato' Yeoh Kian Hin, now deceased, was a director of Tasek Corporation Berhad. Three sons became surgeons in Singapore, Dr. Yeoh Kian Seng ( Plastic Surgery). Prof. Yeoh Kian Hong ( Orthopaedic Surgery) and Prof. Yeoh Kian Hian (ENT Surgery). Prof. Yeoh Ghim Seng had five daughters, of whom one, Dr. Yeoh Saw Cheng, became a doctor and married a surgeon, Dr. Lee Boon Teik. Another daughter, Yeoh Saw Kheng, married Robert Ng Chee Siong, son of the property tycoon, Ng Teng Fong.

Of course, the most famous Yeoh of all, and arguably the most famous Malaysian abroad, is Dato Michelle Yeoh, the celebrated film star, daughter of Dato' Yeoh Kian Teik. Born on August, 6th , 1962. Yeoh Choo Kheng received her early education at the Convent. At the age of 15, she went to an England boarding school. Later she entered the London Royal Academy of Dance, majoring in ballet. However, a spinal injury prevented her from realising her ambition of becoming a ballerina. In 1982 she received her BA in Creative Arts. On a holiday home in 1983, she found that her mother had entered her for the Miss Malaysia competition. At the age of 21 she became Miss Malaysia, a stepping-stone to stardom in Hong Kong. Featuring early as a martial arts actress, she graduated to serious dramatic roles. With such credits as Crouching Tiger Hidden Dragon; The Soong Sisters; and Memoirs of a Geisha, she is the highest paid female actress in Hong Kong, and also the first to make real inroads into the West, starring in the James Bond film, Tomorrow Never Dies. She is one of the very few Malaysians to have made an impact on the global scene.

Being the eldest son of the eldest son of the patriarch, Dato' Yeoh Kian Teik holds the torch for the Yeoh clan. The annual reunion of the clan takes place in Ipoh on the occasion of his birthday. Celebrating his 80th birthday this year, Dato' Yeoh can count his blessings. Among his 16 children by four wives are, besides Michelle.

When Yeoh Khuan Joo first arrived in Malaya, he found that his forefathers in China had not provide a list of characters known as the Zhao Mu to be used in naming the future generations of his genealogical line. He undertook to formulate his own Zhao Mu so that his own descendants would be able to trace the order of generations and locate their respective positions in the genealogical line, even though they be scattered over the four faces of the earth. His Zhao Mu consists of ten lines containing five characters each, one to be used for each generation, covering slightly over 1000 years. He exhorted his descendants, if his own Zhao Mu was exhausted in about a millennium, they were to prepare a similar Zhao Mu to cover the next millennium, and so on unto infinity.

He left a Testament, confirming his secret of success:


"From my youth till my autumn days, I have never indulged in vices such as womanizing and gambling. In my business dealings as well as social activities, I adhere strictly to the principle of honesty, always treating others with sincerity. On occasions when I have been deceived or swindled, I refrain from plunging into fights, physical or legal. Instead I exert self-control and practice tolerance, persuading myself to accept the situation or loss. Eventually, confrontation and disputes are avoided to the benefit of all parties concerned. It is hoped that my descendents will take heed of my exhortation and try to emulate their ancestors in the virtues of honesty and sincerity."

To see photographs of The Patriarch Towkay Yeoh Khuan Joo, his wife and his Third Son, Professor Yeoh Ghim Seng , with a brief history of the latter, click here.

To see more photographs of Lim Siew Tong, the family and their home, click here.

To read a brief history of Ipoh Motors and its first building in Ipoh, click here.