We've tried to ensure the information displayed here is as accurate as possible. Should there be any inaccuracies, we would be grateful if you could let us know at info@ipohworld.org . All images and content are copyright.
(Please click on the thumbnail for a bigger image.)
Falim House (1)
Thumbnail :
---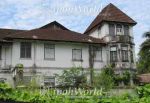 Default




Subject :Falim House (1)
Source :
Charlie Choong, Ipoh
Remark :
This is part 1 of a series of pictures taken of the Falim House - which once belonged to Towkay Foo Nyit Tse. From left to right : the house, viewed from the garden; the stone lions outside the porch. These are followed by a view of the front steps after the lions had been renoved by antique dealers, but the elephant flower pots were syill in their place and finally the Chinese fountain to the left of the small courtyard, itself to the left of the porch.

To know more about Foo Nyet Tse, click here.

To go to part 2, click here.