We've tried to ensure the information displayed here is as accurate as possible. Should there be any inaccuracies, we would be grateful if you could let us know at info@ipohworld.org . All images and content are copyright.
(Please click on the thumbnail for a bigger image.)
Glory Cinema
Thumbnail :
---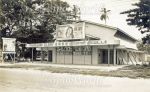 Subject :Glory Cinema
Location :
Buntong, Perak
Source :
Ian Anderson, Ipoh / Tenby Schools, Ipoh
Remark :
The photograph shows Glory Cinema, the name written in the major languages of the country.. According to T M Ng (one of our Readers), "Glory cinema was along the main road to the market just before the slope. It was also a place where gangsters used to fight. It does bring back memories as I cycle from Conolly Road to Buntong to visit friends."

We understand it was partly destroyed by fire and abandoned for several years before being demolished to make way for a community centre.

We welcome more information about this cinema, especially regarding its history.
To view the picture of Glory Cinema projection room, click here.
.