We've tried to ensure the information displayed here is as accurate as possible. Should there be any inaccuracies, we would be grateful if you could let us know at info@ipohworld.org . All images and content are copyright.
(Please click on the thumbnail for a bigger image.)
The Japanese Emperor's Birthday Ceremony In Ipoh Town Hall
Thumbnail :
---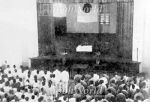 Subject :The Japanese Emperor's Birthday Ceremony In Ipoh Town Hall
Published By :
Published by Perak Academy. Author: Khoo Salma Nasution & Abdur-Razzaq Lubis
Location :
Club Road, Ipoh
Source :
Kinta Valley Book / ipohWorld Library
Remark :
This photograph reproduced from 'Rehearsal for War' shows a ceremony in Ipoh Town Hall to observe the Japanese Emperor's birthday.

Our database editor adds : 'The Emperor at the time is now known by his posthumous name, Emperor Shôwa, but is better known as Hirohito. He was born on 29 April 1901 and lived until January 7 1989. The Emperor's Birthday celebrations, unlike the British monarch, are always carried out on the actual day of birth.'
Ipoh Remembered adds:
Yes, Hirohito was the Emperor's name and Shōwa was the period of his reign, 1926-1989. After he died he was (and still is) referred to as the Shōwa Emperor.

In Occupied Malaya, the celebration of his birthday was a farce – in the sense that, apart from the Japanese themselves and their collaborators and sycophants, no one who attended really wanted to be there – but, on pain of death, people showed up as ordered.

The ceremony – from the opening Kimigayo to the concluding Banzai! – was only one part of the town-wide "festivities" – which, conscripting the schools, mosques, churches, temples, associations, shops, and gekijos, occupied the whole day, the silver lining being that no one (who had a job) had to go to work.


To read more about The Ipoh Town Hall, click here.

To read more about the book 'Kinta Valley', click here.