We've tried to ensure the information displayed here is as accurate as possible. Should there be any inaccuracies, we would be grateful if you could let us know at info@ipohworld.org . All images and content are copyright.
(Please click on the thumbnail for a bigger image.)
Two Boys Songkoks In Original Boxes
Thumbnail :
---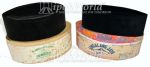 Subject :Two Boys Songkoks in Original Boxes
Source :
Ian Anderson, Ipoh / Tenby Schools, Ipoh
Remark :
The songkok or peci or kopiah is a cap widely worn in Indonesia, Brunei, Malaysia, Singapore, the southern Philippines and southern Thailand, mostly among Muslim males. It has the shape of a truncated cone, usually made of black or embroidered felt, cotton or velvet. It is also worn by males in formal situations such as wedding feasts, funerals or festive occasions The songkok came to be associated with Islam in Malaysia and the Philippines, while in Indonesia the peci is also associated with the nationalist secular movement.

It is called "songkok" in the Ethnic Malay cultural sphere in the Malay peninsula, Sumatra, and coastal Borneo.[However in Java it is called "kopiah" or "kopeah". In Indonesia it also known nationwide as "peci". The name "peci" was probably derived from the Dutch word petje means "small hat". Whatever the name they are all the same shape and style.

We believe that the Ssngkok is derived from the Turkish fez which was adopted by the Ottomans in 1830 and subsequently spread to South Asia, from where it was introduced to the Maritime Southeast Asia including present day Indonesia, Malaysia and Brunei. Certainly it is recorded that that a similar item used to be worn during the Ottoman Empire and in some parts of Africa.

The image above shows the two songkoks in our collection with their respective, pre Merdeka (Independence) boxes. They are in almost as new condition although the boxes, from A Abdullah and Bros and Singalang Jaya, have suffered badlyfrom age.

.