We've tried to ensure the information displayed here is as accurate as possible. Should there be any inaccuracies, we would be grateful if you could let us know at info@ipohworld.org . All images and content are copyright.
(Please click on the thumbnail for a bigger image.)
The Ipoh Swimming Club, A Brief History
Thumbnail :
---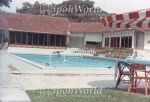 Subject :The Ipoh Swimming Club, a Brief History
Source :
Ruth Iversen Rollitt, UK
Remark :
The Ipoh Swimming Club was built on its present site in 1933, although it has its roots in an old local mining pool (the first club!) at least a decade before that. Of course over the years there have been many changes to the club buildings, but somehow the club manages to retain its old-world charm.
Although it has always been primarily a swimming club, the premises also boast facilities for other sports and recreation including:
Three tennis courts, five squash courts, five badminton courts, three table-tennis courts and two snooker tables, a gymnasium, and of course, as the club name implies, a first class swimming pool.
Today (2018) the club has a membership approaching 3000 souls and a waiting list for those who wish to join.
Our donor, Ruth, had this to say about the picture:
This was before the renovation – the way the pool was as long as I can remember – but the old dining room on the right of the picture has been turned into the airconditioned library and the large room at the entrance to the club has also been turned into an airconditioned room. The library used to be at the back of the 'cowshed' below the present dining room – and the office in which I worked when I was the secretary was adjacent to it.
Another Blog Reader, SK Cheong told us:
The renovation in the mid 1980s saw a revamp to the water outlet with the introduction of the "overflow system" hence friendlier to competitive swimming. Also notable, as a result of the renovation, was removal of the diving board clearly seen in this image and construction of permanent "starting blocks" at the far end of the pool.