We've tried to ensure the information displayed here is as accurate as possible. Should there be any inaccuracies, we would be grateful if you could let us know at info@ipohworld.org . All images and content are copyright.
(Please click on the thumbnail for a bigger image.)
Fraser And Neave (F&N) Ipoh - A Brief History
Thumbnail :
---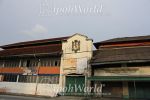 Default


Subject :Fraser and Neave (F&N) Ipoh - a Brief History
Location :
Connolly Road, Ipoh
Source :
Ian Anderson, Ipoh
Remark :
Not a lot is known about Fraser and Neave (F&N) in Ipoh as the main company's history is very sparse for the early days. What is known is that F&N was founded in 1883 in Singapore when John Fraser and David Chalmers Neave formed a partnership to produce aerated waters under the partnership of name of Fraser & Neave (F&N).
Then, in 1898, a new public company named Fraser & Neave Ltd. was formed. The company expanded quickly and although we do not have an exact date, we know that in 1913 the company has branches in Kuala Lumpur, Malacca, Seremban, Ipoh, Penang, Bangkok, Saigon and various agent offices
As far as we know the first Ipoh Building for F&N was at the Kidd Road end of Connolly Road (Jalan Tun Perak) where it operated as a storage and delivery depot for many years. Today the building is empty, abandoned and in danger of demolition. Such is the way we treat our heritage buildings in Ipoh. The picture above left (courtesy of Images of Ipoh) shows the building as it is today. Note the crest above the door (enlarged in the second image) of a red "lion rampant" with the letters F&N. This has been the company crest since 1883 and it will be a familiar landmark to many of Ipoh's more senior residents. Today they operate from a modern warehouse-like building at the other end of Connolly Road. From the adjacent fly-over this building also looks almost abandoned with little or no signs of activity..
It seems that, in the main, F&N used two main Trademarks, Red Lion and F&N. What is not clear to us is if they ran concurrently or consecutively. We have examples of both in the form of drinking glasses in our collection.
In addition to the above pictures of the old building we have also included two well-known F&N signs that we reproduced to display in our 2013 Falim House exhibition.
To see the Red Lion and F&N glasses, click here.