We've tried to ensure the information displayed here is as accurate as possible. Should there be any inaccuracies, we would be grateful if you could let us know at info@ipohworld.org . All images and content are copyright.
(Please click on the thumbnail for a bigger image.)
A Dormitory In The Sultan Idris Training College, Tanjong Malim
Thumbnail :
---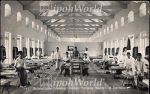 Subject :A Dormitory in the Sultan Idris Training College, Tanjong Malim
Location :
Tanjung Malim, Perak
Source :
Ian Anderson, Ipoh
Remark :
The Sultan Idris Training College was built in 1922. It was the first education training institution in Malaya. Over the years the successful college expanded several times and gained ne status with each major expansion. over decades (Maktab Perguruan Sultan Idris (MPSI), Institut Perguruan Sultan Idris (IPSI)) and is now a public university, Universiti Pendidikan Sultan Idris (UPSI). A polytechnic is also establish recently, granting the town the nickname Town of Education.
The growth of UPSI was developped through three important periods whereby it started with the SITC period (November 29, 1922-1957, MPSI (1957-1987) and IPSI (February 21, 1987 – April 1997). On May 1997, the institution was announced and named Universiti Pendidikan Sultan Idris based on the Government gazette RU. (A) 132 & 133 dated 24th February 1997 under the Order of Universiti Pendidikan Sultan Idris (Corporation) and the Order of Universiti Pendidikan Sultan Idris (Campus) 1997.
R O Winstedt had a major role in the founding of the college as he was strongly in gavour of having a central college to train teachers and widen up the educational scope during that period. He made the proposal after returning from a visit to the Java land and Philippines. The proposal was brought up to the Residents Conference in May 10, 1917.
He also proposed that the place where the college will be built should be on fertile land in order to suit the curriculum needs which were mostly based on agricultural skills. The location should also be within the railway, main road as well as the river networks. Another aspect that should be considered was that the population composition should be of a moderate number.
Up to the 14th Convocation last May 2012 (1999-2012), UPSI has produced 38,035 first degree graduates, Diploma and degree graduates (Doctoral and Master Degrees).
R O Winstedt was a member of the Malayan Branch of the Royal Asiatic Society and wrote articles for their Journal from time to time. He was a specialist in Malay architecture.