We've tried to ensure the information displayed here is as accurate as possible. Should there be any inaccuracies, we would be grateful if you could let us know at info@ipohworld.org . All images and content are copyright.
(Please click on the thumbnail for a bigger image.)
Ipoh Town Hall
Thumbnail :
---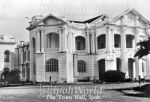 Subject :Ipoh Town Hall
Location :
Club Road, Ipoh
Source :
Ian Anderson. Ipoh / Kinta Properties Group
Remark :
This photograph shows the front and side of the Ipoh Town Hall. The Ipoh Town hall building is a historic structure consisting of interesting Moorish Architecture and designs. It was completed in 1916 with the annex at the east end used as the Post and Telegraphs Office from 1928.

The building was designed by A.B. Hubback, the same public works architect as for Ipoh Railway Station and Kuala Lumpur Railway Station. Construction was commenced in 1914 but its completion was delayed because of high labour costs and shortage of materials brought about by World War I. The contractor for the project was Lim Weng Ching.

The Town Hall entrance shown in the photograph was in Club Road, while the Post Office Entrance was in Post Office Road.

To read more about Old (second) Ipoh Post office, click here.

To read more about Ipoh Railway Station and Hotel, click here.

To read about A B Hubback click here.