We've tried to ensure the information displayed here is as accurate as possible. Should there be any inaccuracies, we would be grateful if you could let us know at info@ipohworld.org . All images and content are copyright.
(Please click on the thumbnail for a bigger image.)
Becoming A Citizen Of The Federation (Of Malaya)
Thumbnail :
---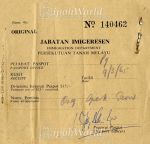 Subject :Becoming A Citizen Of The Federation (Of Malaya)
Source :
Ian Anderson, Ipoh / Kinta Properties Group
Remark :
The images in this entry are those that belonged to Madam Ong Geok Seow, where this particular document is a certificate of Registration which declares that from the 22nd of August 1958 onwards, Madam Ong would be a citizen of the Federation of Malaya under Article 17. The officer which signed this certificate on behalf of the registration authority was H. Perera as stated in the document.
The second image to the left is the back portion of the certificate which contained the personal particulars relating to the applicant which includes the address, date and place of birth of the applicant as well as the relationship status and name of the parents.
The final image from the left is a document attached together with this certificate of registration which we believe to be issued by the immigration department of the Federation for the payment for a passport dated 9th of March 1965.