We've tried to ensure the information displayed here is as accurate as possible. Should there be any inaccuracies, we would be grateful if you could let us know at info@ipohworld.org . All images and content are copyright.
(Please click on the thumbnail for a bigger image.)
Dawn Kathigasu - A Brief History
Thumbnail :
---

Default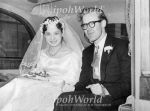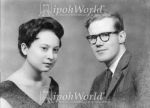 Subject :Dawn Kathigasu - a Brief History
Location :
London, England
Source :
Olga Kathigasu, Ipoh
Remark :
Dawn Kathigasu pictured here when she was in England was born in Ipoh on 21 September 1936 and baptised in St Michael's Church Ipoh 5 days later on the 26th. Her parents were registered and recognised as Dr A C Kathigasu and his wife Sybil, the famous wartime heroine of Ipoh who, after the war, received the George Medal for bravery, from King George VI at Buckingham Palace. In fact in recent years it has become known that Dawn's birth father was in fact one Roy Rowlands. Roy was the son of Dr Kathigasu's old tutor and lodged with the Kathigasu's at 141 Brewster Road, Ipoh. He studied at St Michael's Institution and after leaving school became an electrical engineer. Rowlands stayed with the family for several years and although a few people knew the situation, it was generally a well-kept secret as one would expect of a Catholic family in the 1930's.

When the Japanese first bombed Ipoh in 1941, the family vacated their clinic at 141 Brewster Road and sought refuge, in Papan where they were taken in by a friend at 74 Main Road. They stayed on in Papan during the Japanese Occupation and set up a clinic there.

After a short while, Dr. Kathigasu reopened the clinic in Ipoh while Sybil maintained the Papan dispensary, providing free treatment and medical supplies to the poor and (illegally) to the Malayan People's Anti-Japanese Army guerillas. Inevitably, this led to the arrest, imprisonment and torture of Dawn' parents and adopted brother in early August 1943.

One part of Sybil's torture had a serious effect on Dawn when she too was taken by the Japanese in an effort to get Sybil to confess. Dawn was hung from a tree, by a rope round her chest and with her hands bound behind her. Initially she only had to contend with the pain of that and the hundreds of ants that were biting her, but the Japanese had not finished with her yet. Then they poured burning coals under her and threatened to burn her alive, but still mother and daughter would not give in. Dawn was 7 years-old! Fortunately a senior Japanese officer stopped the torture of Dawn. If that was not traumatic enough, in 1946 her mother was taken to a London hospital for treatment for the terrible wounds inflicted by her torturers and died of those wounds in Scotland in 1948.
When she was eleven, Dawn was presented with the Governor's Card of Commendation, by Mr A. Aston (the Resident Commissioner for Perak), in recognition for her bravery during the War. On 26 December 1952 Dawn left Penang for UK by ship to take up a medical scholarship provided by the British Government. However she was not medically minded and after two years abandoned the college and started to enjoy London.

Nothing more is known about Dawn other than she had children and allegedly committed suicide. If any more is known about her or her children her elder sister Olga would be very pleased to receive the information via this website.

The pictures show (left to right): Dawn in 1953; Dawn and Bruce Spalding, a young London Barrister, at their wedding on 1 September 1956; and Dawn and Bruce in 1957 prior to their only visit back to Malaya.

To read more about Sybil Kathigasu, click here.

To read more about Dr A C Kathigasu, click here.

To read more about Olga Kathigasu, click here.

To read more about St Michael's Catholic Church, Ipoh, click here.

To find out more about The Malayan People's Anti-Japanese Army (MPAJA), click here.