We've tried to ensure the information displayed here is as accurate as possible. Should there be any inaccuracies, we would be grateful if you could let us know at info@ipohworld.org . All images and content are copyright.
(Please click on the thumbnail for a bigger image.)
4 Tins Of Oxo Cubes
Thumbnail :
---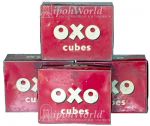 Subject :4 Tins Of Oxo Cubes
Source :
Ian Anderson, Ipoh
Remark :
The picture shows 4 tins of Oxo - a brand of food products which include stock cubes, herbs and spices, dried gravy, and yeast extract. Originally, they sold beef stock cubes, but Oxo also markets chicken and other flavoured cubes today. More about Oxo's story can be found at their website.