We've tried to ensure the information displayed here is as accurate as possible. Should there be any inaccuracies, we would be grateful if you could let us know at [email protected] . All images and content are copyright.
(Please click on the thumbnail for a bigger image.)
Two Wheeled Gharries (Shandridans) In Ipoh
Thumbnail :
---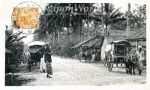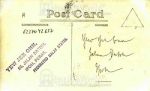 Subject :Two Wheeled Gharries (Shandridans) in Ipoh
Source :
Ian Anderson, Ipoh / Kinta Properties Group
Remark :
Posted in Ipoh East on 17 May 1934, this divided back postcard was sent by Yew Jee Onn, 28 Jalan Datoh, Ipoh to himself at the same address.

As Ipoh grew in size, the first public transport services began to evolve. They were no more that privately-operated taxis and there were two principal types. Two-wheeled carriages pulled by ponies and two-wheeled rickshaws pulled by men.

Rich towkays on the other hand, liked to make a show of going out for a drive in their carriages drawn by a pair of fine-looking horses, imported from Australia or the Middle East, but more usually the pulling was done by wiry little ponies brought over from Java and Sumatra.

Horses and ponies were not well suited to the local climate and their use was generally restricted to in and around town. They trotted along between the shafts of two-wheeled dogcarts, or alternatively pulled a gharry.

To read a brief history of the Rickshaw, click here.

The gharry or shandridan was usually a rickety, jolting and somewhat dangerous contraption under the control of a gharrie wallah and at one time they ruled the streets of Ipoh. But with the recession of 1895 and the subsequent rush of unemployed mining coolies who became ricksaw pullers, making the rickshaw cheaper, safer and readily available on every street corner, the shandridans soon lost favour. Nonetheless, as the picture shows, some of them did hang on for many years and when the miners went back to the mines, many gharries came back on the streets.

The term gharri comes from the Hindustani word gari, meaning a cart or carriage.