We've tried to ensure the information displayed here is as accurate as possible. Should there be any inaccuracies, we would be grateful if you could let us know at info@ipohworld.org . All images and content are copyright.
(Please click on the thumbnail for a bigger image.)
Malim Nawar Stories (1): The Saxey Family
Thumbnail :
---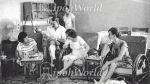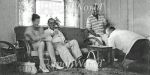 Subject :Malim Nawar Stories (1): The Saxey Family
Location :
Malim Nawar, Perak
Source :
Richard Saxey, UK
Remark :
We thank our donor - Richard Saxey - for these pictures. Those in the two pictures are Richard's family and also Wendy Lewis' family; Richard and Wendy's fathers once worked at the famed Perak Hydro Power Station in Malim Nawar.
In the first picture, Hazel Simon (Wendy's mother) is seated on the far left; on the right is Eve Sawyer. The others in the photo are Barbara Palmer (foreground), Mr Menon and Bertha Gallagher (background).
In the second picture, the gentlemen on his hands and knees is Roy Sawyer; the lady laughing at him is Richard's mother Mary Saxey. According to Richard, seated next to his mother is Wendy's father. The gentleman in the striped shirt is Gerry Gallagher.
We thank Richard Saxey and also Wendy Lewis (nee Simon) for the information.
See pictures of the Power Station from Wendy Lewis.
See the Perak Hydro HQ Building (along Cooper Road) in Ipoh.