We've tried to ensure the information displayed here is as accurate as possible. Should there be any inaccuracies, we would be grateful if you could let us know at info@ipohworld.org . All images and content are copyright.
(Please click on the thumbnail for a bigger image.)
3M Overhead Projector (OHP)
Thumbnail :
---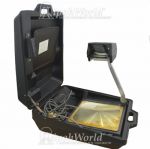 Subject :3M Overhead Projector (OHP)
Source :
Yayasan Sultan Idris Shah
Remark :
The photograph in this entry is that of an overhead projector manufactured by 3M formerly known as the Minnesota mining and Manufacturing Company. Unfortunately we do not have any more information on the projector as no other information than the company name is present on the casing or on the projector itself, if our readers have any further information on the projector, kindly drop us an e-mail at info@ipohworld.org.