We've tried to ensure the information displayed here is as accurate as possible. Should there be any inaccuracies, we would be grateful if you could let us know at info@ipohworld.org . All images and content are copyright.
(Please click on the thumbnail for a bigger image.)
Ipoh Railway Station & Hotel
Thumbnail :
---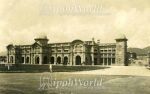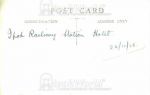 Subject :Ipoh Railway Station & Hotel
Location :
Club Road, Ipoh
Source :
Ian Anderson, Ipoh / Kinta Properties Group
Remark :
The Unused, divided back, postcard shows the Second Ipoh Railway Station and Hotel before any trees were planted in the front. It must therefore have been taken as the station was being completed, even though there is a note on it from 22/11/25.

The first railway station in Ipoh was a wood and atap affair that was built at the same time as the railway came to Ipoh in early 1894.

The construction of the second station and hotel (pictured) began in 1914 but was interrupted due to a shortage of materials and high costs of labour during WWI. Completed in 1917, the station had three platforms, commodious offices for railway staff, and a restaurant and bar. The hotel at first had 17 bedrooms opening out to the deep upper verandah; this was upgraded to 21 rooms by 1936. The ground floor loggia, which is 183m long, runs the entire length of the station's frontage.

The Ipoh Railway Station was designed by the Government Architect, A B Hubback, with classical elements harnessed to the British "Raj" style, surmounted by Moorish domes and turrets. Hubback was also the architect for the ornate Kuala Lumpur Railway Station, completed in 1911, after working on the final stages of the Sultan Abdul Samad designed by R A J Bidwell.

Parts of this description adapted from "Ipoh's Heritage Buildings [1999 Janus Print & Resources] as published by the Perak State Government.

To read more about A B Hubback, click here.

To read more about the First Ipoh Railway Station, click here.