We've tried to ensure the information displayed here is as accurate as possible. Should there be any inaccuracies, we would be grateful if you could let us know at info@ipohworld.org . All images and content are copyright.
(Please click on the thumbnail for a bigger image.)
Press Cuttings (English) - IpohWorld's Exhibition At Falim House
Thumbnail :
---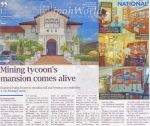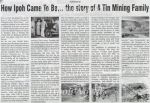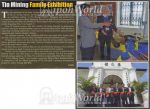 Subject :Press Cuttings (English) - IpohWorld's Exhibition at Falim House
Remark :
These four cuttings from local English newspapers record the ipohWorld exhibition at Falim House from 12 May to 11 August 2013. The exhibition was sponsored by Amber Synergy Sdn Bhd. The exhibition was opened by Dato' Rishidi Hashim, Datuk Bandar of Ipoh.
The exhibition told the story of Falim House and the family that lived there as the first part. It them went om to the Chinese Towkay's lifestyle, their philanthropy, Tin Mining, Transport, Cinemas built by them and more.
The exhibition was very successful with more than 15,000 visitors over the three months.
To red about Towkay Foo Nyit Tse (Tze) and Falim House, click here.