We've tried to ensure the information displayed here is as accurate as possible. Should there be any inaccuracies, we would be grateful if you could let us know at info@ipohworld.org . All images and content are copyright.
(Please click on the thumbnail for a bigger image.)
Henry Waugh & Co Ltd
Thumbnail :
---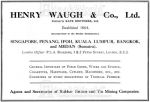 Subject :Henry Waugh & Co Ltd
Remark :
The picture shows an advertisement from Henry Waugh & Co, Ltd. Our donor, Ipoh Remembered, shared the following regarding this advertisement:
"Katz Bros. was an old and venerated Singapore establishment but it never had a shop in Ipoh. Eventually, though, it was taken over by Henry Waugh, which, in 1935, did open an Ipoh branch, on Station Road in what was then the "Perak Hydro" building. Among the items Henry Waugh sold in Ipoh in those days were electrical products, which is why opening a shop in the Perak Hydro building made sense."
Henry Waugh came to Malaya in 1897 to join Katz Brothers. He joined the board of the firm in 1912 and became the owner in 1928. By this time, the name was changed to Henry Waugh & Co, Limited. Read more here.