We've tried to ensure the information displayed here is as accurate as possible. Should there be any inaccuracies, we would be grateful if you could let us know at info@ipohworld.org . All images and content are copyright.
(Please click on the thumbnail for a bigger image.)
A Wedding At Jubilee Park - Part 1
Thumbnail :
---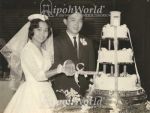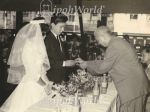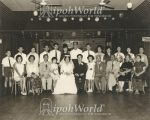 Subject :A Wedding At Jubilee Park - Part 1
Source :
Nancy Ong Geen Lye
Remark :
The collection of photographs in this entry are from Nancy Ong's wedding. Registering their marriage on the 7th of November 1964, Nancy and Chew Thian Teik tied the knot a week later on the 14th of November. Their wedding as the title of this article mentions was held at the Jubilee Park Cabaret.
The third photograph was taken on the day they registered their marriage on the 7th. The pearl necklace Nancy was wearing was a gift from her husband, Chew.
The fourth photograph shows the Top Table at the wedding luncheon, while the fifth photograph is of the luncheon wedding ceremony, conducted by what we believe to be a close friend of Nancy's father, possibly from the Hokkiem Association.A formal church wedding had taken place that morning.
In the last photograph, the wedding group, Nancy's family are sitting to her right. Her parents Ong Siew Hooi(father) and Loo Yoon Ngoh(mother) with her sister Bessie Ong. Behind her mother is her youngest sister Shirley Ong.
The groom's father (Chew Jin Bee) is sitting beside him and his mother is 2nd from the right.