We've tried to ensure the information displayed here is as accurate as possible. Should there be any inaccuracies, we would be grateful if you could let us know at info@ipohworld.org . All images and content are copyright.
(Please click on the thumbnail for a bigger image.)
Cathay Theatre Taken From Outside The Lido Theatre And The Boston Milk Bat
Thumbnail :
---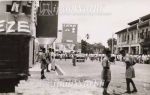 Subject :Cathay Theatre Taken from Outside the Lido Theatre and The Boston Milk Bat
Location :
60, Cockman Street, Ipoh.
Source :
Hong Soon Kheong, Kuala Lumpur
Remark :
The photograph of the Cathay Theatre shows a daytime street scene taken from outside the Lido Theatre. In the forefront are Malay policemen in their traditional uniform of shorts and puttees. A lot of bicycles and pedestrians lining the street are visible, but there is only one car in sight. It is probable that the people are waiting for VIP's to arrive for some function.
Ipoh Remembered tells us:
The photograph above was (apparently) taken in 1957. In that same year, when it opened across Cockman Street from the Lido, the Boston Milk Bar was billed as Ipoh's first, which it was. The interior decor resembled a night-club, the food the usual Malayan simulacrum of Western cuisine. (It lasted five or six years before turning into the Sembawang Milk Bar & Restaurant, the menu expanding slightly to include some Malay and Chinese dishes.)
A year after the Boston opened, and right across the street next to the Lido, the Sydney Hotel opened its own Milk Bar. It was a little less authentically a milk bar, but still recognizable.
Soon there were "milk bars" at various hotels. The Hollywood on Chamberlain Road, for example, opened one.
Then in 1960 came the Cold Storage Milk Bar (and "self-service supermarket"!) on Clare Street, with its stylish appointments, well-prepared food, impeccable service, piped-in pseudo-Latin music, and all-out imperial nostalgia radiating off the walls. It did very well — and I wish it were still there, but really that would be impossible.


To read more about the Cathay Theatre click here

To read more about the Lido Theatre click here.