We've tried to ensure the information displayed here is as accurate as possible. Should there be any inaccuracies, we would be grateful if you could let us know at info@ipohworld.org . All images and content are copyright.
(Please click on the thumbnail for a bigger image.)
Band Of The 1st Battalion, The Royal Lincolnshire Regiment Of Taiping Play For The Grand Opening Of The Lido Theatre
Thumbnail :
---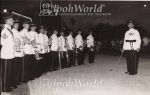 Subject :Band of the 1st Battalion, The Royal Lincolnshire Regiment of Taiping Play for the Grand Opening of the Lido Theatre
Location :
Cockman Street, Ipoh
Source :
Hong Soon Kheong, Kuala Lumpur
Remark :
The photograph shows the Band of the 1st Battalion, The Royal Lincolnshire Regiment of Taiping by the kind permission of the Commanding Officer, LtCol S G Doulson performing outside the Lido Theatre for the Grand Opening of the theatre.

The once popular Lido Theatre, located across the street from the Cathay Theatre, was designed by Danish architect Berthel Michael Iversen, built by the local Ipoh contractor Teh Soo Lye and opened on 25.2.1957.with the Movie "Trapeze", starring Burt Lancaster, Tony Curtis and Gina Lollobrigida specially selected for the occasion. The Sultan of Perak, Sultan Sir Yussuf Izzuddin Shah officiated. The theatre manager was Mr Hong Weng Kuen.

The largest cinema in Perak with a seating capacity of 1,215 seats. The theatre is in close proximity to the Cathay and its front row of windows for the upstairs lobby are nearly identical to its neighbour's. In the 1970's a third class seat, close to the screen, cost 65 cents. The stiff neck gained from two hours or more of looking up at the screen came free. The Lido finally closed on 31st May 2001. Above adapted from information provided by Wendy Dowell, Hong Weng Kuen and Valerie Kam.

The movie "Trapeze" is about former circus aerialist played by Burt Lancaster who was the logical choice to star in the Technicolor drama. Lancaster plays a crippled acrobat, disabled after attempting to perform a dangerous triple mid-air somersault. Tony Curtis co-stars as an aspiring aerialist who coerces Lancaster into teaching him the tricks of the trade.

In the film, the plot concerns the friendship between Lancaster and Curtis which is threatened by the arrival of beautiful, ambitious circus tumbler Gina Lollobridgida (it's a toss-up as to which of the three stars looks best in spangled tights). Trapeze is highlighted by its truly breathtaking stunt sequences, performed by the cream of the European big-top circuit.

To read more about Berthel Michael Iversen, click here

To read more about the Cathay Theatre, click here

To read more about Hong Weng Kuen, click here.