We've tried to ensure the information displayed here is as accurate as possible. Should there be any inaccuracies, we would be grateful if you could let us know at info@ipohworld.org . All images and content are copyright.
(Please click on the thumbnail for a bigger image.)
Raja Muda Perak (to Become Sultan Idris) With Sir Hugh Low With Hugh Clifford In Attendance
Thumbnail :
---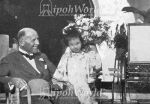 Subject :Raja Muda Perak (to become Sultan Idris) with Sir Hugh Low with Hugh Clifford in Attendance
Published By :
Published by Perak Academy. Author: Khoo Salma Nasution & Abdur-Razzaq Lubis
Source :
Kinta Valley Book / ipohWorld Library
Remark :
This photograph was taken at Government House, Singapore. Taken in May 1886, the photograph shows Sultan Idris Murshidul'adzam Shah (when he was still Raja Muda) together with Sir Hugh Low.
In 1877, Sir Hugh Low (British Resident of Perak), established the Perak Council of State at Kuala Kangsar, with several leading Malay royals and chiefs and two mining towkays.

This governing council gradually formulated the modern laws of Perak. The affairs of Kinta were frequently taken up to Kuala Kangsar by Sultan Idris of Kampar. They were considered as the two pioneers of modern Perak.
Behind Hugh Low stands a very young Hugh Clifford (later Sir Hugh Clifford) in white trousers; in this photograph, Clifford was just twenty years old in May 1886.
Ipoh Remembered adds:
The photograph was taken, just before the group embarked on a journey to Pahang — where, just ten years later, a still-very-young Clifford would serve as British Resident.

An even younger Clifford (second photo supplied by Ipoh Remembered) is pictured as he first arrived in Malaya from England in 1883, age seventeen.

And, Who is the girl in the last picture (from Ipoh Remembered)? On the paternal side Loke Yew was her grandfather; and on the maternal side Chung Keng Kwee was one of her great-grandfathers.

This photograph was taken in KL in the late 1920s while Clifford was Governor and High Commissioner.
To read more about Sultan Idris Murshidul'adzam Shah, click here.

To read more about Sir Hugh Low, click here.

To read more about the book 'Kinta Valley ', click here.

To read more about the Perak State Council, click here

To read more about Kuala Kangsar, click here.
Filename :
KV-017 / 20180915-003