We've tried to ensure the information displayed here is as accurate as possible. Should there be any inaccuracies, we would be grateful if you could let us know at info@ipohworld.org . All images and content are copyright.
(Please click on the thumbnail for a bigger image.)
'Kinta In Ipoh' Showing The First Wooden Bridge
Thumbnail :
---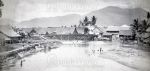 Subject :'Kinta In Ipoh' Showing the First Wooden Bridge
Source :
National Archives, UK
Remark :
The picture, with permission from the National Archives (UK), shows what we believe to be Kampong Laxamana on the left and Ipoh Old Town on the right. The bridge in the background is almost certainly the wooden Hugh Low Bridge, opened in 1890.