We've tried to ensure the information displayed here is as accurate as possible. Should there be any inaccuracies, we would be grateful if you could let us know at info@ipohworld.org . All images and content are copyright.
(Please click on the thumbnail for a bigger image.)
Odeon Theatre - The Building's History In Brief
Thumbnail :
---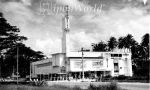 Subject :Odeon Theatre - The Building's History in Brief
Location :
Brewster Road, Ipoh
Source :
Ian Anderson, Ipoh / Kinta Properties Group
Remark :
The photograph shows the Odeon Theatre in Brewster Road. Billed as showing - Today - is the movie, "Outcasts of Poker Flat". This was a black and white remake of the original 1919 film, remade previously in 1937. This version starred Anne Baxter and Dale Robertson. It is a short story about people who are thrown out of a town because they are not considered good citizens and end up stranded in a snowstorm with a bank robber and others.

Billed as - Coming - was: "Young Man With Ideas" starring Glenn Ford and Ruth Roman. The story centres on Glenn Ford, a young, very junior, attorney at a law firm in some small Montana town who's not the most forceful fellow around. With a wife and three kids, he can't afford to be. Wife Ruth Roman sees something more in him and convinces him to be more assertive. Ford decides to move the family to Los Angeles where he can work and study to pass the California bar.

THE BUILDING's HISTORY

Designed by Berthel Michael Iversen for Towkay Foo Yinn Fong, the theatre, known in Cantonese as "Koh Ting", which means "tall tower"., was built in the 1930's and originally named the Rex Theatre. Initially it showed Chinese opera and stage shows but was turned into a Shaw Brothers' Cinema in 1939 (and opened a year later) as recorded by The Straits Times of the 30th April 1939, page 10 which reported:


"Ipoh To Have Four New Cinemas . . A cinema hall which will be leased to Shaw Brothers, is being constructed in Brewster Road for Mr Foo Yin Fong."

When the Japanese authorities took over the theatre, they called it the Ipoh Bunka Eiga Gekijo. The Japanese used the cinema for the screening of documentaries and propaganda. After the war, the theatre was renovated. It was leased to the Cathay organisation and renamed the Odeon Theatre. This new lease was challenged in the courts by Runme Shaw who endeavoured to restore the pre-war lease held by the Shaw Brothers. This is reported by The Straits Times, 20th November 1947, page 7:


"Cinema premises - The Leases And Tenancies (Dispossessed Persons) Board today reserved its decision in the application by Mr. Runme Shaw under the Leases and Tenancies for the repossession of the Odeon Theatre premises of which he was leased pre-war, when it was known as the Rex Theatre.

The hearing of the application which started on Monday mornong closed at noon today."

When Shaw Bros failed in their claims to the Odeon Theatre leasing rights in 1947, Ipoh's pre-war Isis Theatre, built in 1916 by Mr John Archibald (Archie) Russel at the corner of Hume Street and Anderson Road and rebuilt by the Shaw Brothers in 1932 was again significantly renovated and renamed the Rex Theatre.

In the early '50s, Wan Tho installed Malaya's first female cinema-house manager at the Odeon; She was Chung Thye Phin's niece and a fanatical movie-watcher. Also in the early '50s, Suites (or rooms) on the third floor of the building were rented out. Among the tenants were the YWCA and the Menteri Besar's Paloh Club. Both organisations soon moved into their own premises elsewhere in town. Thus, post-war in Ipoh, Cathay, Ruby and Odeon formed the Cathay Organization chain of movie theatres, while Shaw Organization's chain includes Lido, Rex, Capitol, Grand, Oriental and Sun Cinemas.

Somewhat triangular in shape the Odeon is adjacent to St Michael's Catholic graveyard and like the post-war Rex Theatre, rumours that it is haunted abound. One popular rumour is that if you ever take off your shoes inside, you will never find them when the light comes on -- even if nobody has sat in front, behind or next to you. Although the theatre was air conditioned, management would occasionally conserve energy by opening the doors on the side facing the graveyard creating a rather spooky feeling. The Theatre seated 850 on its main floor and in the balcony.

In 1971, the theatre was again renovated and the practice of opening the doors was eliminated and the theatre was brightened. Primarily focusing on Tamil, Hindi and Malay, the Odeon also diversified into English and Chinese films. The theatre was never popular and most moviegoers preferred to see the same movies at the Cathay Theatre, Ipoh during the first run.

Finally, the theatre closed in 1986 and has been a nightclub (initially known as "Rainbow City") on and off since then. Because of bad Feng Shui, businesses in the building never lasted except for the theatre which had only marginal success. In 2007 it suffered a serious fire and although in 2008 it remains standing, it is no longer in use.

Here we would like to thank our readers Ruth Iversen Rollitt, Ken Chan, Hasbi and Valerie Kam for clarifying the above histoty for us. Other readers also offered the following memories:


"There were always stalls outside the Odeon selling dry stuff like sweets, chewing gum, salted nuts, sour plums and kuaci (Sunflower seeds).You could also find boiled corns, steamed yellow peanuts, lin toong and lok lok.

Talking about cinemas, in the late 60s and early 70s, some cinemas actually gave away free tickets to coffee shop proprietors like my dad for a space infront of the shop to put their billboards. Everytime they change a movie,we will get new tickets to that movie!So,we got to go for free movies throughtout the whole year.Like all good things,this comes to an end,around 1973 or 1974.By then,cinemas uses newspapers to advertise as more people began to read papers." - ipohgal.

"Ah the Odeon. It was indeed across from the grave yard. Late 50's and eraly 60's further to the left of the building they would have outdoor chinese opera which use to scare the living s*** out of me as a child. They were travelling troupes who would set up on a piece of waste ground .... always changing lots of cymbals. None of it made any sense to me but it did not have to for it was, at my age, scary as hell but irresistable. On the left and behing the theatre were these amazing tress....huge jungle oaks. Sad that they have gone now. The odeon always played mostly chinese movies but once in a while it would play some obscure weird english movie.I remeber seeing one about circus freaks there...strange.it always had the best bill boards. Awesome architecture!" - Sean Power

"It is sad to see those Old Style Cinemas go because when they went they took with them the Hawkers that sold various snacks,such as ipohgal has mentioned,the boiled peanuts in newspaper cones,the rojak sellers,not my favourite I must admit,but my wife loved it.My favourite was the wafer thin strips of sweet pork,sold in beautiful fresh buns about 3-4 inches long.The Multi-plex system has replaced all this with the Popcorn and Coca Cola culture,alas thats progress. I think?" - Jim Joyce.

To read more about the Cathay Theatre click here

To read more about the Rex Theatre click here

To read more about Berthel Michael Iversen, click here

To read a short introduction to the Shaw Brothers and their Jubilee Park, Ipoh, click here.

To read more about the Isis Theatre, click here.

To read about St Michael's Catholic Church, click here.


((cinema))