We've tried to ensure the information displayed here is as accurate as possible. Should there be any inaccuracies, we would be grateful if you could let us know at info@ipohworld.org . All images and content are copyright.
(Please click on the thumbnail for a bigger image.)
Lee Siong Fa At The Anderson Road Children's Playground, Ipoh - And A Short History Of The Playground
Thumbnail :
---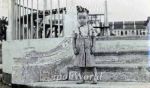 Subject :Lee Siong Fa at the Anderson Road Children's Playground, Ipoh - and a Short History of the Playground
Location :
Anderson Road, Ipoh
Source :
The Beef Noodle Family, Ipoh
Remark :
These three photographs are all of Lee Siong Fa enjoying the facilities of the old Anderson Road playground. Note the style of dress, long baggy shorts and braces, of the youngsters around that time. He was either 4 or 5 years old.

Siong Fa is the eldest son of Lee Cheong and his wife Sia Yu Ji. He still (2007) works regularly at their family business, the famous Beef Noodles Stall in Ipoh, which has been in operation by his family for more than 70 years.

The history of the playground is interesting as it is one of the few, apparently out of character, good things that the Japanese did during their occupation of Malaya and Ipoh. Originally there was a pre-war theatre called Harima Hall on the site, which was demolished, but before new shophouses were built, the war broke out. The Japanese then turned the area into a playground for Ipoh's children.

Harima Hall was originally built as a cinema by K Harima, an established cinematographer in Singapore in 1909 and leased to Leong Eng Khean (first son of Leong Fee) as the Oriental Cinema. In 1917 the Oriental moved into its own new premises in Brewster Road. This was later named the Sun Cinema. It was actually the Japanese Judge, Kusaka, who presided over the court in Ipoh and was widely regarded as an extraordinarily fair and humane judge, under the circumstances, who was the moving force behind the transformation of the open space off Anderson Road, into a children's playground. At the time it was bounded by Anderson Road, Clare Street (to the South) and Osborne Street (East) with Brewster Road buildings forming the boundary on the North side.

Today it is a very different place and nothing like those halcyon days when Siong Fa spent his happy playtime hours there.

To read more about Lee Cheong and his wife Sia Yu Ji, click here.

To read more about Lee Cheong and the Beef Noodles Family click here.