We've tried to ensure the information displayed here is as accurate as possible. Should there be any inaccuracies, we would be grateful if you could let us know at info@ipohworld.org . All images and content are copyright.
(Please click on the thumbnail for a bigger image.)
History Of E W Birch Fountain, Ipoh
Thumbnail :
---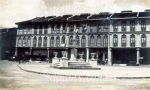 Subject :History of E W Birch Fountain, Ipoh
Location :
Belfield Street, Ipoh
Remark :
This photograph shows the E W Birch Fountain. The all-marble fountain at the southern end of Belfield Street, was erected by the Ipoh Chinese business community, in memory of Sir Ernest Woodford Birch, ICS, CMG, KCMG, British Resident of Perak from 1905-1910 and son of the first British Resident J W W Birch, who was assassinated by the Malays. At the time the area was a Chinese community *as verified bt Madi below) and was, for a time, called "Market Square" because it was close to Ipoh's "New Market" (completed 1907).
We do not have a precise date for the completion and unveiling of the fountain, but our best estimate is 1913. This is based on a newspaper snippet from the Social and Personal section of The Straits Times of 14 October 1912, which read:
"The Chinese of Ipoh are going to put up a memorial fountain to Sir Ernest Birch on a triangular piece of ground near the Lahat Road, which will be available when the improvement to the Lahat Road has been carried out."
An identical snippet appeared in the Singapore Free Press and Mercantile Advertiser (Dated 17 October 1912).
Today, we are sad to report that, in the name of development, this splendid heritage feature which was in need of restoration, was demolished in the late 1990's and replaced by a new fountain of a much lesser quality and style.
Personal Stories of the Fountain
Madi remembers "In the 40s, I was staying at 78 Belfied Street near to the old fountain. The majority of people staying there were Chinese and not Indians. My grandfather was operating an electrical shop there. In the evening the fountain would be brightly lit and the area around the fountain would be quite crowded. We kids would be playing around the fountain while the elders would be sitting around the benches there.It was a pleasant place and quite safe as there were few or no cars.
Some interesting Pre-history
Ipoh Remembered advises us that:
Birch himself suggested the fountain while he was still Resident of Perak.

He also helpfully suggested a favored location: the People's Park, which he himself had just helped establish as a public recreation ground — but I suspect that that the Chinese community in turn favored that location for a delightful little temple of its own, leaving the esteemed Mr. Birch's fountain to be built elsewhere.

To support this idea Ipoh Remembered quotes and extract from an article in the Malay Mail, of November 13, 1910:

"In view of the approaching departure for good of our popular Resident, who sails for the old country on December 6, a public meeting was called for Friday afternoon in the Ipoh Club, which was largely attended by all the leading European residents in the place, for the purpose of deciding what form our parting souvenir of his long and successful administration should take. […] The Chinese community are likely to erect an ornamental fountain to his honor in the People's Park, on a wish expressed by Mr. Birch himself."
Subsequently Ipoh Remembered added:
Mr. Justice Ferrer-Manby" is mentioned.

In fact his name was (Percy Alan) Farrer-Manby. He was the Judicial Commissioner in Ipoh.

His predecessor in that post was Lionel Woodward. As I've mentioned before, when Lionel arrived in Ipoh the government built a house for him at the intersection of Hugh Low Street and Tambun Road. Upon Woodward's leaving, Farrer-Manby occupied the house for a few years with his wife, Lilian.Their daughters was born there. The girl, Charlotte, was their only daughter. She died two decades ago.

Later, the house became the official home of the Menteri Besar. It has since been re-built, of course.
To read more about E W Birch, click here.

To read more about the above Town Council sign, click here.

To read more about J W W Birch click here.

To read more about Belfield Street, click here.