We've tried to ensure the information displayed here is as accurate as possible. Should there be any inaccuracies, we would be grateful if you could let us know at info@ipohworld.org . All images and content are copyright.
(Please click on the thumbnail for a bigger image.)
Courtroom Of The Ipoh Supreme Court Under The British Military Administration (BMA)
Thumbnail :
---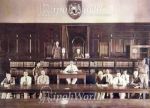 Subject :Courtroom of the Ipoh Supreme Court under the British Military Administration (BMA)
Location :
Club Road, Ipoh
Source :
High Court, Ipoh
Remark :
The British Military Administration (BMA) administered British Malaya, under temporary British military rule, between the end of World War II in September 1945 to the establishment of the Malayan Union, with Singapore as a Crown Colony, on April 1st 1946.

The Administration held full judicial, legislative, executive and administrative powers and responsibilities and jurisdiction over all persons and property throughout Malaya and Singapore. Lord Louis Mountbatten became the director of the administration in September 1945. Major-General Ralph Hone was given the post of Chief Civil Affairs Officer responsible for the Peninsula. The Federated Malay States, the Unfederated Malay States as well as the Straits Settlements including Singapore were placed under this temporary British military rule.

For more information log on to http://en.wikipedia.org/wiki/British_Military_Administration.

The photograph shows the inside of the Supreme Court with the President of the Court, Lieutenant Colonel J G Adams seated in the Judge's seat and a number of court officials positioned around the room.

To read more about the Ipoh Supreme Court, click here.