We've tried to ensure the information displayed here is as accurate as possible. Should there be any inaccuracies, we would be grateful if you could let us know at info@ipohworld.org . All images and content are copyright.
(Please click on the thumbnail for a bigger image.)
Inspection And Parade Of The Tapah Home Guard Contingent
Thumbnail :
---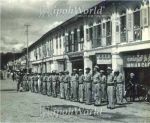 Subject :Inspection and Parade of the Tapah Home Guard Contingent
Source :
Ong Kor Leong, Tapah
Remark :
The photographs shows the Tapah contingent of the Home Guard in 1952 with their HG armbands clearly visible. On the left they are on parade on one of Tapah's streets outside the premises of K Kumarsamy & Bros, Chop Sin Keong and the Indian Café. The second photograph shows what is believed to be the Sultan of Perak, Sultan Yusuff Izzuddin Shah with the Perak Menteri Besar, Dato' Haji Abdul Wahab bin Toh Muda Abdul Aziz, inspecting the contingent.

FORMATION OF THE HOME GUARD
In 1950, due to the continuing threat of the Communist Terrorists, General Sir Gerald Templer, as the Civil and Military head of the government of British Malaya formed and armed the "Home Guard" as part of the defence of the nation. The role of the Home Guard was static local Defence and the manning of checkpoints to prevent the transfer of supplies to the Terrorists. This encouraged the participation of the general population in the struggle against the Communists and at the same time increased the local security while building the confidence and morale of the people. The introduction of the Home Guard also released the military and police for anti-terrorist operations and separated the CTs from their main sources of supply and recruitment.

In 1958, as the Malayan Emergency and the Communists became less of a problem, the Malayan Home Guard was disbanded and The Malayan Territorial Army was formed. The Territorial Army was subsequently renamed "Askar Wataniah" and Colonel Yeop Mahidin was appointed as its first Director.

To read more about General Sir Gerald Templer, click here.

To read more about Haji Abdul Wahab bin Toh Muda Abdul Aziz, click here.