We've tried to ensure the information displayed here is as accurate as possible. Should there be any inaccuracies, we would be grateful if you could let us know at info@ipohworld.org . All images and content are copyright.
(Please click on the thumbnail for a bigger image.)
Convent Of The Holy Infant Jesus, Ipoh - Fashion Show By The Students
Thumbnail :
---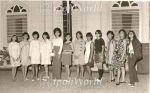 Subject :Convent of the Holy Infant Jesus, Ipoh - Fashion Show by the Students
Source :
Mei Baker (nee Ong Wei Mei), UK
Remark :
Ong Wei Mei born 2.5.1949 is the granddaughter of Ong Bee Thye and Luc Sim Ma, both immigrants from China.

This photograph provided by Ong Wei Mei shows the students of the Holy Infant Jesus Ipoh who took part in a fashion show in 1966. The clothes were all designed and modeled by the students themselves. The building in the background is part of the St Michael's Institution parlour (which faces the school's gate).

The students on the photo are; Ong Wei Mei (third from left), Lim Siew Lien (fifth from left), Josephine Au Yeong Chai Yoke (fourth from right), and Geraldine (fifth from right). Wei Mei, unfortunately, can't recall the names of the other students. If anyone can fill in the other names or provide more information related to this photograph we shall be pleased to hear from them.

To read more about The Main Convent School, click here.

To read more about Ong Wei Mei, click here.

To read more about Ong Bee Thye and his Wife Tan Siew Ewe, click here.