We've tried to ensure the information displayed here is as accurate as possible. Should there be any inaccuracies, we would be grateful if you could let us know at info@ipohworld.org . All images and content are copyright.
(Please click on the thumbnail for a bigger image.)
The 12th Infantry Regiment Workshop REME Part 1
Thumbnail :
---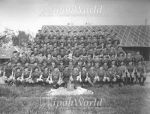 Subject :The 12th Infantry Regiment Workshop REME Part 1
Location :
Gunong Panjang Camp, Ipoh
Source :
Dennis Marsden, UK
Remark :
The Corps of Royal Electrical and Mechanical Engineers REME, is a corps of the British Army that has responsibility for the maintenance, servicing and inspection of almost every electrical and mechanical piece of equipment within the British Army including such diverse items as tanks, helicopters, dental tools and cooking utensils. REME was formed in 1942 from an amalgam of other branches of the army including the Royal Army Ordnance Corps (RAOC), the Royal Engineers, the Royal Corps of Signals and the Royal Army Service Corps (RASC).

The photograph shows the team of the 12th Infantry Regiment Workshop REME, in 1956, based in Ipoh at Gunong Panjang Camp.

If anyone can let us have any information about this image we will be pleased to receive it.

To go to Part 2, click here.