We've tried to ensure the information displayed here is as accurate as possible. Should there be any inaccuracies, we would be grateful if you could let us know at info@ipohworld.org . All images and content are copyright.
(Please click on the thumbnail for a bigger image.)
A Single Bullock Power, Wooden Bullock Cart
Thumbnail :
---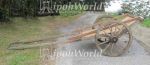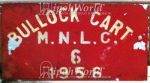 Subject :A Single Bullock Power, Wooden Bullock Cart
Source :
Ian Anderson, Ipoh / Kinta Properties Group
Remark :
This original bullock cart would have been used for general haulage around town, in the paddy fields and in the early days for transporting tin or rubber sheets. However bullocks, even when there were two to a cart, were not strong enough for really heavy haulage and in the early days they were often replaced by elephants, later motor vehicles.

This cart has been restored using original old Cengal timber as the decking and side bars had deteriorated beyond repair. The frame, shafts and wheels are completely original.

For exhibition purposes we have attached an original Bullock Cart Licence Plate from Malim Nawar, Perak, It is dated 1956 at which time this cart would have been in full employment.

To read more about Bullock Carts, click here.