We've tried to ensure the information displayed here is as accurate as possible. Should there be any inaccuracies, we would be grateful if you could let us know at info@ipohworld.org . All images and content are copyright.
(Please click on the thumbnail for a bigger image.)
D R Seenivasagam & Friends In Ipoh
Thumbnail :
---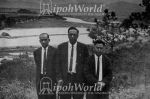 Subject :D R Seenivasagam & Friends In Ipoh
Published By :
Published by Perak Academy. Author: Khoo Salma Nasution & Abdur-Razzaq Lubis
Source :
Kinta Valley Book / ipohWorld Library
Remark :
This photograph shows D R Seenivasagam and his friends.

Dharma Raja Seenivasagam was born in Ipoh in 1925 and educated at Anderson School (Ipoh). He was the son of a well-respected Ceylonese lawyer from Jaffna who started the S Seenivasagam & Sons, Advocates & Solicitors firm at 7 Hale Street, Ipoh. He and his elder brother, S P Seenivasagam, were well-known for their socialist ideas and legal aid offered to the poor. They shot to fame and popularity among the Chinese for taking up the case of Lee Meng, the Communist 'grenade girl'.

D R Seenivasagam founded the Perak Progressive Party (PPP) in 1953, after breaking away from the Labour Party. In the 1954 elections, the PPP's first electoral debut, he was voted to the Town Council of Ipoh and Menglembu under the 'Alliance' ticket. He lost in the 1955 Federal Elections but won a seat in the by-elections in 1956, on Chinese communal vote. By this time, the PPP has changed its name to the People's Progressive Party, a party inextricably linked with the famous Seenivasagam brothers who became synonymous with Ipoh in the post Merdeka (Independence) period.

Although the leaders of the PPP provided a face of non-communalism, their success in a solidly Chinese electorate was attributed to their open hostility to Malay privileges, and their intense championing of Chinese communal demands related to Chinese language, education and citizenship issues. Hence, the Seenivasagam brothers became the heroes of the little-assimilated, low-income Chinese masses in Kinta. However, after his speech at the Legislative Council in December 1957, D R was accused by the Menteri Besar of taking Chin Peng's side and inciting the people to open rebellion against the government.

In the parliamentary elections of 1959, the PPP won all the four seats in Perak, with the Seenivasagm brothers scoring handsome victories. The PPP continued to rule Ipoh for the next ten years. During this period the Kinta Valley enjoyed the boom in tin prices, making it possible for the Seenivasagam brothers to drive a slew of public improvements and social housing projects. It was under the Seenivasagam brothers' leadership that Ipoh became the first town to be elevated to a Municipality, since Malayan Independence, in 1962.

In honour of his achievements in Ipoh Coronation Park was renamed after him as D R Seenivasagam Park and it is still known today by Ipohites as D R Park.

To read an article about D R Seenivasagam, click here.

To read more about Anderson School, Ipoh, click here.

To read about Lee Meng's trial and conviction, click here.

To read more about D R Park / Coronation Park, click here.

To read more about the book 'Kinta Valley', click here.

To read an article about S P Seenivasagam, click here.