We've tried to ensure the information displayed here is as accurate as possible. Should there be any inaccuracies, we would be grateful if you could let us know at info@ipohworld.org . All images and content are copyright.
(Please click on the thumbnail for a bigger image.)
The Perak XI Football Team
Thumbnail :
---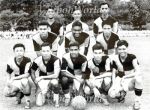 Subject :The Perak XI Football Team
Published By :
New Straits Times
Source :
New Straits Times Press, Kuala Lumpur
Remark :
The picture shows the Perak XI Football Team, in Ipoh. They defeated Kelantan 6-1, securing a place in the finals of the Malaya Cup. Perak XI later beat defending champions Selangor in the finals (held that same year) at Merdeka Stadium.
Those in the picture are:
Back row, L-R: T. John, Foong Kam Choy, Ahmad Nazari
Centre row, L-R: Chan Tuck Choy, R. Anthony, Wong Kim Seng
Front row, L-R: Liew Fee Yuen, Loh Kam Fook, Ramadas Rao, Wong Kong Leong, Cheong Weng Leong
To see the Perak Team and Selangor Team at Merdeka Stadium, click here.