We've tried to ensure the information displayed here is as accurate as possible. Should there be any inaccuracies, we would be grateful if you could let us know at info@ipohworld.org . All images and content are copyright.
(Please click on the thumbnail for a bigger image.)
Khek (Hakka) Community Association - Perak Headquarters, Ipoh
Thumbnail :
---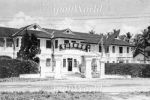 Subject :Khek (Hakka) Community Association - Perak Headquarters, Ipoh
Location :
21-22 Jalan Bendahara, Ipoh
Source :
Ian Anderson, Ipoh / Kinta Properties Group
Remark :
This photograph shows the headquarters building of the Perak Khek Community Association, a Hakka dialect group also known as the Hakka Association.

The Association was formed quite late when compared to some other Chinese associations, not actually being declared formally open until 1951. However the history of the Association can actually be traced back about 20 years to the early 1930s when Towkay Leong Sin Nam, a Ka Yin Hakka, tried to set it up, but was not successful before he passed away. Despite his failure, he is still honoured by the Association as one of the Founders.

Consequently, a group of 'Pioneers', including Towkay Lau Pak Kuan started a fund-raising committee in 1941 with the aim of setting up a permanent Perak Khek Association in its own building in Ipoh. However the World War II invasion by the Japanese promptly put an end to their efforts and the idea laid dormant until the war ended.

Therefore it was not until 1948 that any real progress was made and this was marked by their borrowing a room from the Perak Ka Yin Association at 114 Belfield Street, Ipoh to use as an office, The Ka Yin members themselves being of the Hakka dialect, but from a strictly defined area of Guandong Province, China.

In September 1949, having raised sufficient funds, the committee bought 21 and 22 Jalan Bendahara, Ipoh (pictured above and which had formerly been a Chinese Embassy) and the Association commenced operation under its first Chairman, Towkay Hew Kiew. His Vice Chairmen were Towkay Foo Nyit Kai (Foo Yet Kai) and Towkay Chong Sam. The Association remains at that site today (2008). The Perak Khek Community Association building was formally opened with a ceremony on the 1st January 1951.

In 1951 Towkay Leong Su Leng became Chairman and Towkay Hew Kiew stayed on as Vice. Towkay Foo Yet Kai then became the 3rd president of the Association for 1955-1956 which led to the next major milestone of the Association, the suggestion that a private school be founded on the same site as the Association's premises. This was agreed and building works for Shen Chai (Shen Jai) High School were started in 1958. The school opened on the 4th January 1960.

To read more about Towkay Leong Sin Nam JP OBE, a Ka Yin Hakka, click here.

To read more about the Perak Ka Yin Association, click here.

To read more about Towkay Lau Pak Kuan, click here.

To read more about Towkay Choong Sam, click here.

To read more about Belfield Street, click here.