We've tried to ensure the information displayed here is as accurate as possible. Should there be any inaccuracies, we would be grateful if you could let us know at info@ipohworld.org . All images and content are copyright.
(Please click on the thumbnail for a bigger image.)
Perak Ka Yin (Hakka) Association And Min Tet Primary School, Ipoh
Thumbnail :
---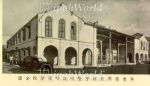 Subject :Perak Ka Yin (Hakka) Association and Min Tet Primary School, Ipoh
Location :
Belfield Street, Ipoh
Source :
Perak Ka Yin Association, Ipoh
Remark :
This photograph shows the original Ipoh Ka Yin Hakka Association (also known as Kah Yin or Kaying) premises in a set of shoplots, acquired by the association in 1900 and incorporating the new Min Tet Primary School from 1912, the first lessons taking place on 25 February that year. The building owed its being to the generosity and forsight of three Towkays, Yau Tet Shin, Zhen Ji Lou and Lee Tong Shen. These three Ka Yin Hakkas, were the Pioneers of the association. Two other philanthropist Towkays Leong Sin Nam, JP OBE and Leong Ker Rou, also from the Ka Yin Hakka group, soon stepped in as donors in support of the association. All are honoured in the documentation of the association.

In the 1950s, the organisation had expanded to be the Perak Ka Yin Association and by the 1960's the buildings were no longer large enough. Consequently plans were set to demolish the existing premises and build new. To this end Min Tet School was found a new home in Falim, near Ipoh in 1965 and in 1966 the old buildings shown above were demolished.

The new building, externally complete in 1969, was able to commence basic office operations in May 1970 and was officially opened by the Sultan of Perak, Sultan Idris Al-Mutawakkil Alallahi Shah on 12th February 1971. The bands of Perak Girls School and St Michael's Institution, Lion Dancers and local VIPs were in attendance, including D R Seenivasagam, founder and head of the People's Progressive Party, and the Menteri Besar among others.

The Ka Yin Association takes its members from the Chinese Hakka (Khek) community who speak the Hakka dialect and whose families originated from a defined area of Guandong Province, China. Known as the five townships, the area includes the towns and surrounding countryside of Mei Xian, Jia Liang, Ping Yuen, Wu Hua and Xin Ning.

To read more about Towkay Yau Tet Shin, click here.

To read more about Towkay Zhen Ji Lou, click here.

To read more about Towkay Lee Tong Shen, click here.

To read more about Towkay Leong Sin Nam JP OBE click here.

To read more about Towkay Leong Ker Rou, click here.

To read more about D R Seenivasagam, click here.

To see a photograph of the new association building, click here.