We've tried to ensure the information displayed here is as accurate as possible. Should there be any inaccuracies, we would be grateful if you could let us know at info@ipohworld.org . All images and content are copyright.
(Please click on the thumbnail for a bigger image.)
Ipoh Old Town, From The River Bank
Thumbnail :
---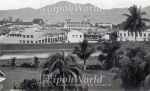 Subject :Ipoh Old Town, From The River Bank
Source :
Ian Anderson, Ipoh
Remark :
The picture shows a view of Ipoh's Old Town, taken from the banks of the Kinta River. In this picture, the following landmarks can be seen (from left to right):
In the background is the famed Kledang Range. According to our Blog Reader Charlie Choong:
This photo can only be taken from the tower of the Kinta Fire Brigade, located along Brewster Road, across Kinta River. The first building on the right of the picture should be the Sun Cinema and the white building between that and the HSBC should be the High Court building. The road visible with the cars along it is Hale Street, and this picture would most probably be taken before WW 2, as most of the "roofs" look original. Some of the buildings in this photo, especially along Hale Street were hit by Japanese Bombs.
The pdf link was sent to us via email from Ipoh Remembered. We thank him for kindly pointing out the various buildings which can be viewed in this above picture.
Click here to see the De Silva building when it was used as the Ipoh Tutorial Institute.