We've tried to ensure the information displayed here is as accurate as possible. Should there be any inaccuracies, we would be grateful if you could let us know at info@ipohworld.org . All images and content are copyright.
(Please click on the thumbnail for a bigger image.)
More Receipts (2)
Thumbnail :
---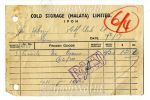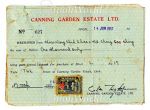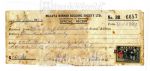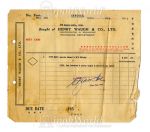 Subject :More receipts (2)
Source :
Ian Anderson, Ipoh
Remark :
Here we have some vintage invoices/credit notes/receipts showing how business operations worked in the past, including sales, purchases, and deals, for a variety of companies and eras, thus giving us a visual snapshot of life in the old days.
From left to right:
1. Issued by the Cold Storage (Malaya) Limited, Ipoh on 7th March 1959, this receipt acknowledged the payment of $12.60 for the purchase of 3 ice cream whose flavors and brand remain unknown due to the unrecognizable handwritting. The ephemera was signed and bears a "PAID" stamp.
2. This receipt no. 627, dated 14th June 1957 was issued by Canning Garden Estate Ltd. to acknowledge the payment of $1000 deposit for the purchase of a property Block L No. 17 Type TH2 house at Canning Garden Estate, Ipoh by Miss Wong and Madam Chang. It was signed by the manager of Canning Garden Estate Ltd. and carries a 6 cents Malaya stamp.
Click here to read about another similar set of receipts issued by the same company.
3. On 14th June 1957, Malaya Borneo Building Society Ltd. (incorporated in Singapore) issued an official receipt no. 6657 to Miss Wong to acknowledge her payment for the property inspection fee which cost $100. It was verified by the signatures of the company's branch cashier and accountant and also carries a 6 cents Malaya stamp.
4. This is another vintage receipt produced by Nang Fong Piano Co. (Musical & Recorders Dealers) which was once located at 180, Brewster Road, Ipoh. Dated 15th May 1952, it records the purchase of an unknown item for $20.00. It was signed by the company's manager.
5. On 10th March 1953, this invoice was issued by Henry Waugh & Co., Ltd. (incorporated in Singapore) Provisions Department to the Lodge Kinta, Ipoh relating to the purchase of 1 case of 12/1 quarts Dewar's W/L Whisky for a total of $168.50. The invoice was signed by Chew Kean Hoe. See an advertisement for Henry Waugh & Co, Ltd here.