We've tried to ensure the information displayed here is as accurate as possible. Should there be any inaccuracies, we would be grateful if you could let us know at info@ipohworld.org . All images and content are copyright.
(Please click on the thumbnail for a bigger image.)
Malay Dulang Washers In The Kinta River, Ipoh
Thumbnail :
---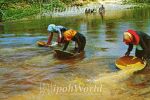 Subject :Malay Dulang Washers in the Kinta River, Ipoh
Source :
Ian Anderson, Ipoh / Kinta Properties Group
Remark :
Dated by the special label for the 2nd Annual General meeting of the Governors of the Islamic Development Bank, this used Photochromatic postcard, sent from Subang to England, shows three ladies busily panning for tin ore in the Kinta River.

Known as 'Dulang Washing', this work was definitely a female role carried out by local women of all races in Malaya. In the Kinta Valley mines, panning took place after the coolies had done their best to extract the tin from the earth and sand. However there was always a good proportion of tin left behind and here the women worked with their round wooden trays made from slices of a tree known as dulangs which would last the dulang washer a lifetime. The dulang was used to scoop up the earth, mixed with water and by careful swirling of the water the mud was swept away and the heavier tin ore remained.

Once as clean as they could get it, the ore was tipped into the tin pail/bucket or in some cases a canvas poch hanging around their waist and then to the bucket. The half-coconut shell was used later in the day for the final washing of the concentrates. Panning for tin was an important source of income for Chinese women, licensed or not, especially during the times of recession. However, they also often caused major damage to the river banks where the finest ore was thought to be.

In 1927, 7,536 twelve-month permits were issued to women and children, in the Kinta Valley, for dulang washing. Each permit cost $1.

To read about a day in the Life of a Dulang Washer, click here.

To read more about the Dulang washer's coconut shell, click here.

To read more about the Dulang washer's scoop, click here.

To see a photograph of a Dulang , click here.