We've tried to ensure the information displayed here is as accurate as possible. Should there be any inaccuracies, we would be grateful if you could let us know at info@ipohworld.org . All images and content are copyright.
(Please click on the thumbnail for a bigger image.)
YMCA, Ipoh
Thumbnail :
---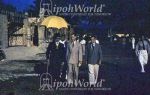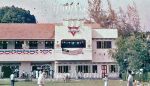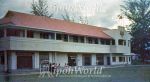 Subject :YMCA, Ipoh
Source :
Ann Kesselring Hamon, Wisconsin, USA
Remark :
The pictures show Ipoh's YMCA, around the time it was first opened. From left to right:
The Sultan of Perak, at the opening of Ipoh's YMCA (1954).
The Boys' Brigade, at YMCA (1950s).
The YMCA building, decorated with flags and banners.
Note the Federation Flag, which was in use from 1 February 1948 until 16 September 1963.
Another view of the YMCA building.
We thank Ann Kesselring Hamon (daughter of Ralph Kesselring) for these pictures, which were scanned from 35mm Kodachrome slides.